First Generation
Sometimes I wonder if my parents will ever understand why I make pictures. They came to Massachusetts 25 years ago from Central America. My father, Rubio, was from El Salvador and had grown up during its civil war. My mother, Katy, immigrated to the United States from Guatemala when she was 16 years old. They both wanted to escape the violence and have better lives. When I started making these pictures, I was looking at how my generation tried to fit into both cultures, how we were in situations where we had to help our parents with different tasks, from translating for them at the hospital to taking them to work and other things. In a way, there was always pressure on my cousins and me to do well, as if our successes would justify our parents' sacrifices. So the pictures are about honoring a debt to my immigrant parents.
The series, First Generation, was published on The New York Times Lensblog, Honoring a Debt to Immigrant Parents and on The Groundtruth Project, Documenting my family as a First Generation American.
I am the first in my family to attend and graduate from college. Arileni, my cousin, on the right, is the second. We could not afford to live in the dorms; we could not afford the full college experience. Instead, Arileni and I shared a bed, surrounded by the certificates of accomplishments our parents hung on the walls.
In this photo, Rubi is jumping off the bed and yelling, "Fly, fly away, Tia Iari!" My mother stopped working a couple years back when my stepfather's business really picked up. During that time, my niece, Rubi, was born. My mother would babysit Rubi while my sister worked. Last September, Rubi began school. Now, my mother spends her time alone at home. I feel like my mother is depressed and I try to keep her happy, but I can't be there for her all the time – I want to also make my life. I want to shoot, I want to use my work to create change. I just want to get out there and share my work, particularly during these difficult times.
A typical evening at the Calderon household consists of my mother watching Spanish soap operas and my stepfather reading on his iPad. My grandmother (far left) visits from Guatemala. We live 30 mins outside of Boston, in Lawrence, Massachusetts. We have been here for over 7 years. This is our first family-owned house in the United States.
My aunt, Maritza, stands in her home after a 12-hour shift at the factory. She is the first of our family to immigrate to the United States. "If I stayed, I would've probably had five kids conforming to the typical Salvadoran lifestyle. You don't progress over there. I own my car now and, one, day I will have my home."
My niece, Rubi, the first of the second generation, shows a sign of hope and love towards Matheus, the last of the first generation in 2014. This was during our visit to a lake in Laconia, New Hampshire, a special place we go every summer. It's our escape from reality. Part of my family isn't allowed to travel because of legal issues. The part of my family that can is always working.
In my cousin Arileni's household live both her parents and our Aunt Frany. Arileni, who is blow-drying her hair, basically holds that household together by handling the bills and with her ability to understand English. On the left is my Aunt Maritza, Arileni's mother after a long day at the factory.
My grandmother Nora's ritual is to read her Catholic magazines that she brings from her hometown in Mejicanos, San Salvador. It is her way of staying spiritually connected, since she cannot visit church as frequently as she would like.
My younger brother, Hugo Menjivar, 14, and our father, Rubio Menjivar, on the way to the supermarket. Recently, my dad has settled on a low-wage job. He's at a stage where he is depressed and desperate for a solution to succeed. My younger brother, Hugo, wants more. He has a different mindset for the future. He wants to be a civil engineer.
My grandfather, Armando Menjivar, 81, took frequent trips to the beach while visiting from El Salvador. He doesn't like it here because in El Salvador, he has his farm, his cows, his horses and his way of life. Here, he feels enclosed and crowded.
My father's sister, Frany Menjivar, chose to immigrate to the United States and never return to El Salvador in order to escape the violence. Her last straw was when she was robbed and threatened at bus stop.
Aunt Doris has to walk her children to daycare and then catch two different buses for an hour-long trip each way to her job at Dunkin Donuts. She has been working at Dunkin Donuts for over 13 years. Everyday is the same routine, rain or shine.
It was January 2015, I was 22 and I had made my first trip alone to Mexico for a photography workshop. I was learning how to capture and how to communicate with people. My mom was really supportive of my pursuits in photography, but others in my family were worried and questioned why I didn't study something that would make me a lot of money. This trip really changed me. It felt like it was the first time I was able to do something for myself without fearing what my mother would feel. For the first time, I felt independent.
My half brother, Hugo Menjivar, celebrates his 16th birthday. Hugo is an honors student taking college-level classes in high School.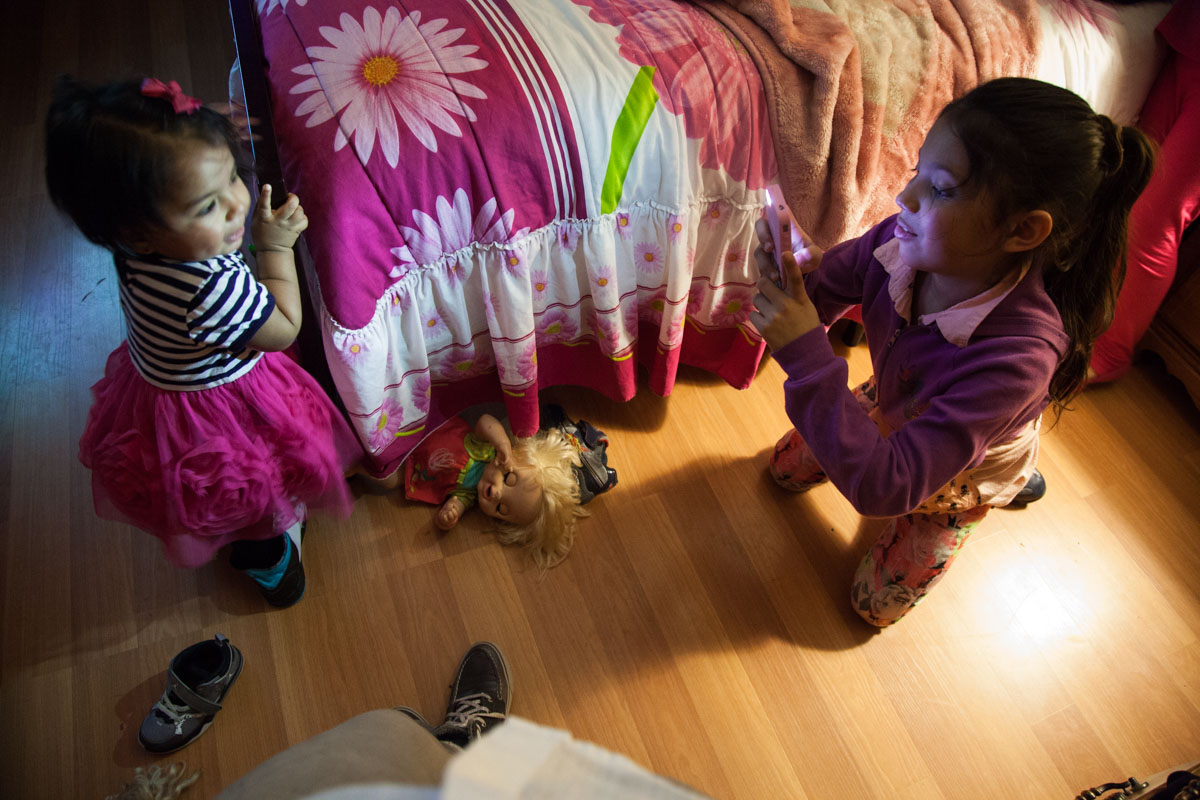 As I took this photograph, I remembered a story my mother once shared: "When I was a kid I used to play with wooden sticks and pretend they were dolls." In the pink skirt on the left is my goddaughter Genesis and her friend Jocelin Maldonado.
Jose, my stepmother's brother, had recently moved to the US. He was struggling with the language and trying to find a job to repay his debt. It was as if I was seeing a younger version of my father.
The morning before my grandmother went back to Guatemala, she made us all pray for her safe voyage. This trip was her first time traveling to the United States. She applied three times before receiving a visa. She was able to visit the family after over 20 years of being apart. My grandmother lives on a farm where they still use an outdoor bathroom and wash the clothes by hand. I had to teach her how to use our toilet and shower.